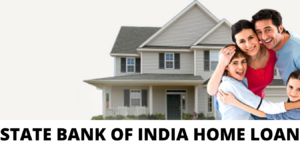 The purpose to provide SBI Home Loan is:
1. Purchase/Construction of House/Flat.
2. Purchase of Plot and construction of house thereon
3. Repairs/ improvements/ extension of the existing residential property.
Some basic details for availment of SBI Home Loan
A person should be a resident of India and must be at-least 18 years of age. Maximum age is fixed at 70 years.
Maximum loan tenure is  30 years or up to the age of 70 years of borrower whichever is earlier
Processing fee is 0.4% of loan amount subject to minimum of Rs. 10,000/- and Maximum of Rs. 30,000/-
HOME LOANS: FLOATING INTEREST CARD RATES
AMOUNT
SALARIED
 
TERM LOAN
MAXGAIN

Up to Rs 30 Lacs

EBR + 15 bps
ER: 7.20%
(ER: Effective Rate)

EBR + 40 bps
ER: 7.45%

Above Rs 30 Lacs to Rs 75 Lacs

EBR + 40 bps
ER: 7.45%

EBR + 65 bps
ER: 7.70%

Above Rs 75 Lacs

EBR + 50 bps
ER: 7.55%

EBR + 75bps
ER: 7.80%
Case Study- Person A is working in some private sector company with net salary of Rs. 30,000/- monthly. If he did not have any plot or site for construction, he is eligible for the loan of Rs. 22 Lakhs with an EMI of Rs. 14,993/- only.Kindly find the photo below which will make you more clear.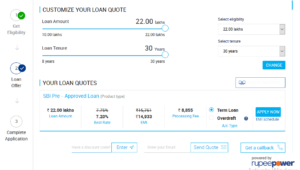 If you are interested to know your loan eligibility then contact me at admin@bankingzone.in
To know more about Stat Bank of India home  loan special offers and schemes, kindly visit here.
You can also calculate your home loan EMI by visiting the link here.
The list of Papers/documents required:
Employee Id Card
Loan Application form duly filled along with 3 passport size photographs
Identity proof like PAN card, Driving License, Passport, Voter Id card, etc.
Address proof like Electricity bill, Water bill, Passport, Aadhar Card, etc.
Permission for construction (where applicable)
Occupancy certificate (In case of ready to move property).
Approved Plan copy (Xerox Blueprint) & Registered Development Agreement of the builder, Conveyance Deed (For New Property).
Last 6 months Bank Account Statements for all Bank Accounts held by the applicant.
Salary Slip or Salary Certificate of last 3 months, Form 16 for last 2 years.
Income Proof for Non-Salaried Applicant/ Co-applicant/ Guarantor:
Address proof of business
IT returns for last 3 years
Balance Sheet and Profit & Loss A/c for last 3 years
Business License Details(or equivalent)
TDS Certificate (Form 16A, if applicable)
Certificate of qualification (for C.A./ Doctor and other professionals)
That's all for State Bank of India Home Loan. Hope you have understood better. Thanks for visiting us !
Kindly visit here if you are looking for State Bank Vehicle loan or Education loan.