BOBIBANKING allows its customers to change registered mobile number in Bank of Baroda online as well as offline. There are two methods to update BOB Mobile Number; by writing an application or downloading BOB Mobile Number Change Form PDF. Both the methods are quite simple to use. Let us know how to Change/Update Mobile Number in Bank of Baroda @bobibanking
In this article, you will learn how to download the online form of BOB mobile number updation and what is the format of writing an application to the bank manager about this query.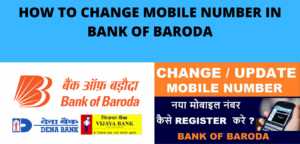 How to Update/ Change Mobile Number in Bank of Baroda
Bank of Baroda Mobile Number Change/Update Application Process @bobibanking
Step-1: Got to Bank of Baroda official website i.e. www.bobibanking.com
Step-2: Click on "Download Forms" link at the bottom side of home page
Step-3: Click on "Change / Addition of Contact Information & Email registration form" link
Bank Of Baroda Mobile Number Change Form PDF

After clicking on "Change / Addition of Contact Information & Email registration form" link, you will see a Pdf like this: Contact-Information
This is the Bank of Baroda Mobile Number change application form. Download this Pdf file in your system and take a print out of it. Fill it completely and submit it to the bank branch Manager.
Writing the Mobile Number Change Application
We often change our mobile number and update the same with our friends and family members, why?? Because we dont not want to miss important events of our life. The same goes to changing contact details in banks. If we do not update our contact details, how we gonna informed about the bank updates and most important the transaction updates. So, it is very important to update mobile number in your bank whenever you change it.  In this method, you have to write an application whose format is given below:
To,
Bank of Baroda Manager,
Branch xxxxxx
Date xxxxxxx
Dear Sir/Madam
Please update my registered mobile number xxxxxxx(Old Number) with new mobile Number xxxxxxxx. My account number is xxxxxxxxx. I have a Saving Account/Current Account in this account since xxxxx( Date of account opening).
Please change my mobile number in BOB account as soon as possible. I shall be thankful to you.
Yours Sincerely
Your Name xxxxx
Mobile Number xxxxxx
Attach photo copy of ID Proof documents like Aadhar Card/ Voter ID Card/ PAN Card along with this application and submit it to the BOB Branch. Your mobile number will get updated soon.
For taking SMS facility from Bank of Baroda, visit Bobibanking and click on SMS Banking on the right side of the page. You will be redirected to this page. Here you can find the Toll-free number with SMS text instructions for different types of SMS facilities.