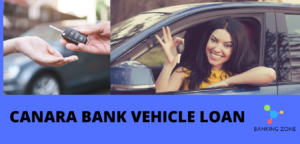 The purpose of Canara bank Vehicle loan is to provide assistance in buying new or used four wheeler as well as new two wheeler . Let us first check here some basic details regarding Canara bank Car loan eligibility and interest rates
All individuals/firms/companies are eligible to avail except Hindu Undivided Family
Minimum gross salary of an salaried person should be Rs. 3 Lakhs p.a.
Non salaried individual should have a minimum Gross annual income of Rs. 3 Lakhs p.a. There is a condition that Gross average annual income  of 3 years should not be less than 2.50 Lakhs
Minimum in-hand salary after taking into considerations the installment of proposed loan should not be less than 25% of net monthly salary or Rs. 12,000/-, whichever is higher
Rate of Interest is 10.25% in case of women borrowers and 10.30% in case of others
Maximum re-payment schedule is up to 84 months in case of a new car and of 60 months in case of used cars
Vehicle not older than 1 month form the  date of their purchase/first registration will be treated as a new car
Processing charge is 0.5% of the loan amount subject to minimum of Rs. 1,000/- and maximum of Rs. 5,000/-
No prepayment penalty is charged. You can re-pay the loan at any time period
Contribution from your side- Margin money
CAR TYPE
QUANTUM OF LOAN
MARGIN
                   New
Up to Rs. 10 Lakhs
10%
Above Rs. 10 Lakhs and up to Rs. 25 Lakhs
15%
Above Rs. 25 Lakhs
20%
Used (not older than 5 years)
75% of Car Valuation amount or Rs. 15 Lakhs whichever is lower
Details on Canara Bank Two wheeler loan eligibility and interest rates
Minimum age of an individual should be 21 years and maximum is 65 years
Minimum gross salary of an salaried person should be Rs. 75,000/-  p.a.
Non salaried individual should have a minimum Gross annual income of Rs. 75,000/-  p.a.
Maximum repayment period is 60 months
Processing charge is 0.25% of loan amount subject to minimum of Rs. 250/- and maximum of Rs. 1,000/-
Canara bank rate of interest today are 13.55% to 15.30%
Documents required for the availment of vehicle loan
You will need to submit the following document along with the application form.
Salaried person have to submit bank account statement for last 6 months, 3 months pay slip, ID proof, Address proof, 2 passport size photographs and I.T. return or Form 16 for the last 2 years. Non-salaried person must submit ITR for last 2 years as income proof. Non-salaried person may be asked to submit audited balance sheet, P&L statement for 2 years, sales tax certificate, copy of partnership deed in case of Firm.
Person engaged in agriculture and allied activities have to submit khasra and khatoni with photographs. Land should be freehold and ownership should be in the name of borrower. Documentary proof of running allied activity should be provided
Proof of Identity : – (Copy of any one) Passport/ PAN Card/ Voters ID card/ Driving License etc.
Address Proof :- (Copy of any one) Ration card/Driving License/Voters ID card/Passport /Telephone Bill/ Electricity bill/Life Insurance policy
That's all for Canara bank Vehicle loan . Hope you have understood better. Thanks for visiting us !
Click here to know about Canara bank four wheeler loan to agriculturist. Kindly visit here to know about Canara bank Home loan and Education loan