Changing mobile number is very important when you switch to new mobile number. In such cases, change registered mobile number in Union Bank of India (UBI) becomes essential. As all transactions details and updates are connected with registered mobile number, you need to update the registered mobile number in UBI( Union Bank of India) to staty connected with such updates. In this article, we will learn how to change/update mobile number in Union Bank of India, UBI.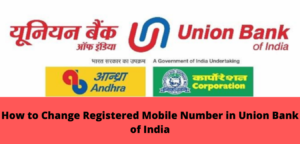 Union Bank Mobile Number Change Procedure on UBI Official Website
Starting with the basic yet the best method to change mobile number in UBI is visiting the branch itself. Yes, you have to go to your UBI branch with an UBI Mobile Number Change Application Form. You can either download this form online from the UBI website or ask the bank for the same. Just fill the form and submit it to the Branch Manager with required identity proof.
Still finding How Can I Update My Mobile Number in Union Bank of India : Follow the steps below
You can also write an application to change mobile number linked to your Union Bank account. You can take help from the letter format given below to write the Union Bank of India mobile number update application:
To,
The Branch Manager,
Union Bank of India
City________
PIN_________
Date________
Respected Sir/Madam,
I am a Saving Account User of your UBI Bank _____Branch. I want to inform you that I have changed my mobile number few days back.  Please change this registered mobile number with my new mobile number as soon as possible. The details of Bank Account and mobile number are mentioned below:
Name____________
Ac No. ***************
Branch Name and Address: ________
Previous Mobile No. XXXXXXXXXX
New Mobile No. XXXXXXXXXX
Email Id:__________
Kindly change registered mobile number in UBI and update the new one.
Thank You.
Yours sincerely,
[Signature]
[Your Name]
This is how you can change mobile number in Union Bank of India.
hope this works for you.
Thanks for reading this article
To know how to open and use Paytm Payment Bank, kindly visit