We are here to know Kotak Mahindra Bank(KMBL) Net Banking – How to Change/Update Mobile Number. Is changing your registered mobile number in Kotak Mahindra Bank bothering you? Do not worry. You can change Mobile Number in Kotak Mahindra Bank online as well as offline. Mobile Number Updation can be done either by submitting "Kotak Mahindra Bank Mobile Number Change Form" or do the same through KMBL Net Banking Account Login. This article will tell you how to update your registered mobile number with Kotak Mahindra Bank through both ways.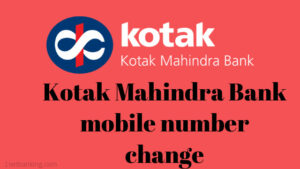 Online Method to Change Mobile Number In Kotak Mahindra Bank
Step-1: Go to KMBL Net Banking Page
Step-2: Enter your CRN/Customer ID and Password to login KMBL Net Banking account
Step-3: Once you click on "Secure Login" button, a 6-digit code will be sent to you by mail and SMS. Enter that code in the desired field
Step-4: Click on "Profile/Update contact details" option present at the right top corner of Home Page
Step-5: Here you will see your personal information and Contact Details. Against each information, you will find an "Edit" option. This is provided to change/Update any information instantly. Here, you are looking for Mobile Number Change information, so click the Edit option present against the Mobile Number option.
Step-6: You will see the screen saying: "Please Update Your Mobile Number". Enter, your Mobile Number in the vacant box and click on "Submit"
Step-7: Before you update your mobile number, KMBL Net Banking asks you to validate your details through the following options:
Debit Card Details
Credit Card Details
Secret Questions
One time Password
Aadhar Number
Select any one of the above options and input respective details. Click "Submit" to proceed further
Step-8: That's it! Your Kotak Mahindra Bank Mobile Number is updated now. You will see the following confirmation message on your screen:
Your New Mobile Number will be Updated within 24 Hours!!!
You can also check here the methods to update/change mobile of different banks.