Everyone has the right to good education that will assist them in shaping their future. A good education is what paves the way to success. Education loans of Kotak Mahindra bank are designed to finance meritorious students who want to pursue a higher education both in India and in Abroad. Additionally with quick loan approval, minimal documentation and lower interest rates, your dream may come true with minimum efforts.
Maximum quantum of finance to study in India is Rs. 10 Lakhs and to study abroad is Rs. 20 Lakhs. List of institutes eligible for Kotak mahindra(kmbl) education loan are KMBL LIST OF INSTITUTES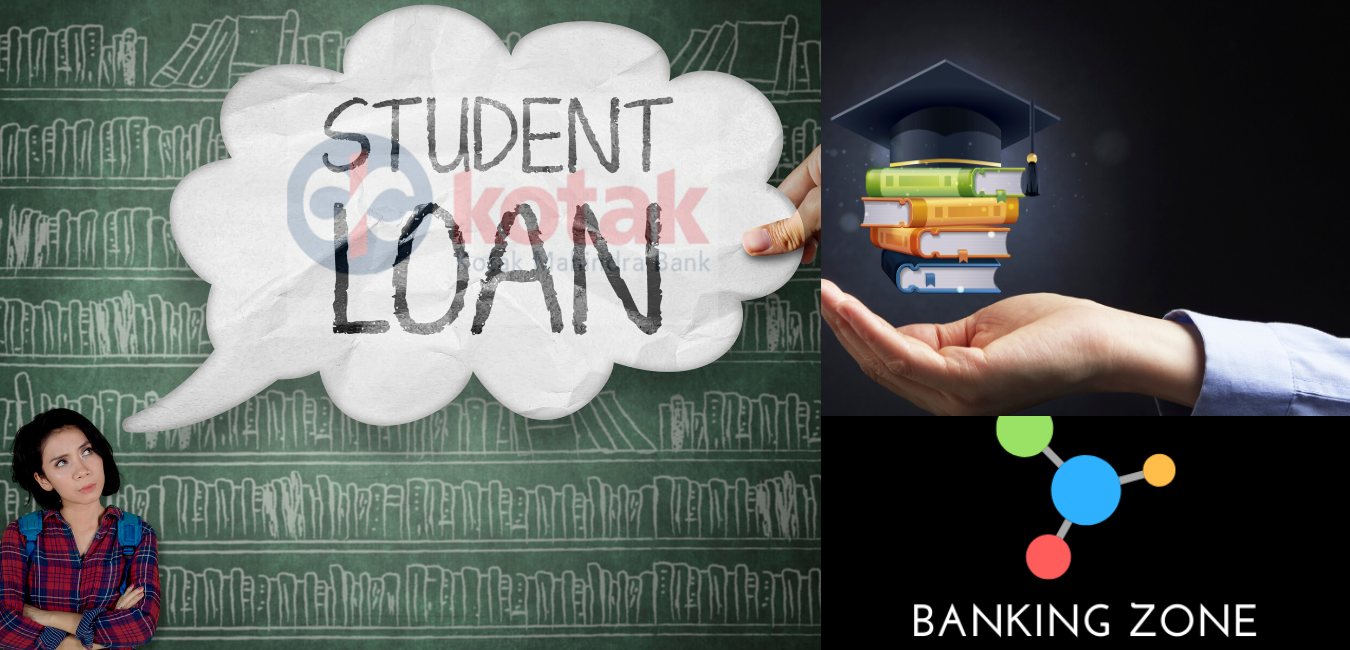 There is no specific restriction on the age of student for the availment of education loan
Minimum age of an individual/co-borrower/guarantor should be 21 years and maximum at the time of loan maturity should be 70 years
If a student is a minor then the joint applicant/co-borrower/guarantor must execute the loan document. Bank will obtain the letter of ratification from student upon attaining majority
Student should be an Indian national
The student should have secured the admission in India or abroad through relevant selection procedure as adopted by competent authority
The parent(s) of the student has to compulsorily join in as co-applicant
In case of married person, co-applicant can be spouse/parent(s)/parent(s)-in-law
6 months moratorium period is given to repay the loan. Moratorium period is the period of your education plus 6 months is given to get a job. It other words, 6 month more time is given to repay the loan after the completion of course
Processing fee is 2% on the loan amount
Courses in India eligible for an education loan
Post-Graduation courses: Masters and Ph.D. from A recognised university
Professional courses like Engineering, Medical, Agriculture, Veterinary, Law, Dental, Management and computer science, CA, CS, ICWA, CFA are eligible
Degree/Diploma courses like aeronautical, shipping, nursing, pilot training approved by DGCA/Shipping/Indian Nursing Council or any other regulatory body
 Courses in abroad eligible for an education loan
Graduation from an recognized universities
Postgraduate degrees like MCA, MBA, MS and other eligible courses
Other courses like CPA in USA, CFA, CISA, CIMA-London and other approved courses are also eligible
Degree/Diploma courses like aeronautical, shipping, pilot training provided they are approved by competent regulatory body
Documents required for Kotak Mahindra Education loan
An application form along with 2 photographs
Identity proof like PAN card, Voter's ID, Aadhaar Card, etc
Proof of address like Driving license, Passport, utility bills, etc
Payslips of last 6 months for salaried individuals
Form 16 or ITR of last 2 years
Proof of ownership and relationship
Letter from college mentioning the details regarding course and its fees
Academic mark-sheet and certificates
Kotak Mahindra Rate of Interest on Education Loan varies from 11.50% to 24% on all loan types and amounts. The bank has lowered its interest rates for girl students to 10.25% for loans up to Rs. 7.50 Lakhs. Only simple interest will be charged during the moratorium period. After the moratorium period is over, compound interest will start to accumulate. If you had borrowed a loan amount of Rs. 7 Lakhs for your girl child at an interest rate of 10.25% for 10 years then you have to pay Rs. 13,354 as loan EMI. You can also download the education loan application from here
You can find here some of the charges stipulated by Kotak Mahindra bank
(a) Loan Processing Fees: Up to 2% of the Loan Amount.
(b) Cheque Dishonour Charge: Rs 750 per instrument per instance
(c) Collection Charges for Default Interest:
(d) Swap Charges (for replacement of PDCs): up to Rs. 500 per swap instance
(e) Credit Appraisal Charges: Upto 5% of the loan amount, not exceeding Rs. 7500.
(f) Collection Charges for dishonour of Cheques: Rs. 750
(g) Prepayment/Foreclosure Charges: Lock- in period for 12 months. After 12 months 5% foreclosure charges+ service tax on principal outstanding
(h) Other Charges: As may be specified by the Bank from time to time;
That's all for Kotak mahindra(kmbl) education loan. Hope you have understood better. You are free to ask any query in a comment box provided. Thanks for visiting us !