House is a single word to us but it is always been a gathering place and shelter avoiding the busyness and intrusion of the world. We usually dream to build our own house, but in this running life we ​​suppress our dreams due to lack of money. Home loan helps to make this dream come true, whose easy installments help you to build or even purchase your own house. Let us discuss here Canara Bank housing loan rate and eligibility.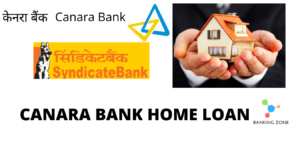 The purpose of providing home loan is to:
Purchase/Construct house or flat
Purchase site and construct house over it afterwards
Repairs/ improvements/ extension of the existing residential property
Take over of housing loan liability from other lending institutions subject to certain criteria as bank mention
Eligibility for the availment of Canara Bank home loan:
Person should be a salaried individual with minimum 2 years of regular and continuous service in aggregate,or
Person should be a businessman or self employed person like doctor, Chartered Accountant, etc,. Such applicants should have been in a business for minimum 3 years, or
Minimum age of person should be 18 years and maximum is 60 years. Person above the age of 60 years can also avail the loan subject to certain terms and conditions. In all stage loan must get clear before borrower attains the age of 70
The maximum quantum of loan for salaried person to be consider is up to his 72 months' salary and for non salaried person it is 6 years his annual income. Maximum amount of loan granted for repair/renovations is Rs. 5 Lakhs
Margin money to be contributed at your side
 Housing Loan amount

In case of New House/ Flat  & Old House/ Flat Up to 10 Years Old
In case of Old House/ Flat above 10 Years old
Up to Rs. 30.00 Lakhs
10%
25%
Above Rs. 30.00 lakhs & Up to Rs. 75.00 Lakhs
20%
Above Rs. 75.00 Lakhs
25%
Rate of Interest for housing loan is based on your CIBIL score. Generally it is 7.3% for women borrower and 7.35% for others. Repayment period for loan is up to 30 years or borrower attaining the age of 70, whichever is higher. Processing charge is 0.5% of loan amount subject to minimum of Rs. 1,500/- and maximum of Rs. 10,000/-
Moratorium Periods:
The  repayment shall commences within 2 months from the date of disbursement in case of purchase of house/flat
In case of purchase of plot and construction of house afterwards or for only construction of house, the repayment period shall starts within 2 months after completion of house or 24 months from the date of first disbursement, whichever is earlier
In case of under construction flat/house, the repayment shall commence within 2 months of completion of construction or 36 months from the date of first disbursement, whichever is earlier
Kindly click here to know about Canara bank Vehicle loan and Education loan.  To know more about Canara bank Loans and Advances, Kindly click here
That's all for Canara bank Housing loan. Hope you have understood better. Thanks for visiting us.